Raspberry breeding has been one of the largest breeding programmes at Lubera for over 20 years. Ultimately, only apple breeding is even older, which basically began when the company was founded in 1993. The first goal of raspberry breeding was simple and overdue: it was to replace the dominant Autumn Bliss raspberry with better varieties. To do this, we crossed Autumn Bliss with Tulameen together with Reto Neuweiler from the Wädenswil Research Station – this then resulted in the Autumn First®, Autumn Best® and Sugana® varieties.
Since then, we have never had such a productive crossing population. But in the end, it is we ourselves who set the hurdle or the threshold for new varieties higher and higher because each new variety has to find and fill its place. In the meantime, thanks to the Lubera breeding programme, a whole new world of raspberries has emerged that has changed the cultivation of raspberries in the garden for good – and above all has simplified it. The raspberry can no longer only be grown in the garden on a stake or wire frame, but it can also be cultivated in pots and containers, on a balcony, on a terrace, as a small group of plants in a perennial planting, and of course still classically as a raspberry row.
Raspberry breeding – time scale and scope
As plant breeders, we always look forward – and back at the same time. What have we achieved and created in the last 10 to 15 years (a year is not a year in breeding terms), and which plants, which new traits will we create in the next 20 years. You may be amazed at the long time horizons: 10 years back and 20 years ahead. But a cross-breeding year in raspberries, for example, takes 8-10 years until the final processing and variety introduction. In our breeding programmes in East Malling, England and Buchs, Switzerland we produce crosses every year, i.e. we pollinate the emasculated (unmanned) flowers of the mother variety with the pollen of the father variety. This produces between 2,000 and 8,000 seeds a year, of which perhaps half to two-thirds germinate. In other words, gigantic quantities of seedling plants, each of which is an individual in its own right, which have to be selected and assessed, then finally propagated as candidate varieties and tested again. In total, we invest about 10% of our turnover at Lubera for our breeding and product development (i.e. not only for raspberries, but for all 25 very small, medium and also larger breeding programmes). You, our customers, make our variety innovation possible.
Raspberry breeding: taking a look back
What new raspberry varieties have we brought onto the market in recent years? We have succeeded in significantly increasing the diversity of garden raspberries; there are now more different types of raspberry plants and thus more possible uses in the garden:
Primeberries® improve the classic autumn raspberries, e.g. with thornless varieties such as Autumn Happy, with very large-fruited varieties such as Autumn Sun, or with the first purple-coloured autumn raspberry Autumn Passion.
The Schlaraffia® raspberries offer a range of medium-high raspberry bushes that only grow between 110 and 150 cm tall; they are suitable for pots, but also for informal plantings, planted here and there in the garden, e.g. in a mixed border, for snacking as one walks through the garden or for the grandchildren.
Lowberry® raspberries stay under 80 cm tall, making them ideal for small gardens, for children's gardens and for growing in pots.
Chef® raspberries don't rule our raspberry families, but offer the best and most intense raspberry flavour. These are simply the best tasting autumn raspberries and summer raspberries.
Twotimer® raspberries produce a double yield, once on last year's canes (which fruited mainly apically, i.e. at the top, in the first year) and then again later on the tops of this year's canes.
The breeder's life and the plant's life
What else would be possible in breeding, what else can we achieve in the next few years? First perhaps a disclaimer: I am now 58 years old; the breeding perspective is beginning to transcend my active professional perspective, which means I can now rant quite freely about the future of breeding because I no longer have to deliver everything myself. But this freedom is only apparent: we are NOW making the crosses that will be varieties in 10 years' time, and we are NOW setting the strategic course so that in 20 years' time, i.e. after my active professional career, we will be able to achieve the breeding goals that have been set. Fortunately, I can already involve younger people, our junior breeder Moritz Köhle and Frederik Vollert, the plant developer at our young plant company Lubera Edibles, in the breeding planning. But even together we, me and the next generation of breeders, are only a blink of an eye in the long history, the long journey of raspberries.
Looking ahead: where will the raspberry be in 20 years?
It is quite impressive to see how the berry plant has changed, even for someone like me who has accompanied the raspberry journey over the last few years. But how will it develop in the future? Which lines of development from the past can be extended and what is new?
The fruit size
You can twist and turn it however you want, but fruit size is a decisive factor in quality. Bigger fruit means more flesh, more to bite into, more juice to hit your taste buds, more experience. But there are limits to the growth potential. On the one hand, this is precisely the physical weakness of the raspberry: after all, it leaves the flower base on the plant, the cone does not belong to the fruit as it does with the blackberry, so the raspberry presents itself as a kind of thimble, with the individual fruits, the so-called drupelets, only sticking loosely together. Something like this can never be completely stable, and at some point the raspberry will also fail under its own weight and collapse. The increase in size is also limited by another factor: larger raspberries bring more experience to the raspberry eater as long as he/she can eat the raspberry whole, all at once; as soon as the raspberry requires several bites or yields several mouthfuls, this will tend to have a negative effect, especially on a juicy and unstable type of fruit like the raspberry. No one in this clean world wants to have the juice and pulp of a bitten raspberry sticking to their hands. So: in 20 years, all raspberries should weigh about 7-9 g, no more. Let's see how this will turn out 😉.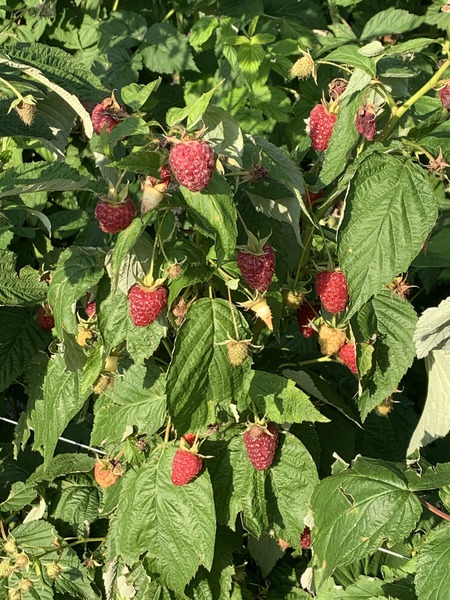 Pictures: Select varieties...
...in search of the biggest, the best and the most beautiful.
Fruit firmness/size of the individual fruits, the drupelets
Especially in raspberry breeding for commercial cultivation, the focus is on fruit firmness. Only very firm raspberries protected by a thick but still elastic skin can be harvested in Spain, transported to England, stored and then sold in the supermarket within two days and eaten by the consumer within the next few days. Breeding here tends to produce very stable raspberries, with a visually very beautiful structure of small, thus durable and therefore very firm, individual fruits. Such commercial fruits are usually harvested very early, with only a light pink colour, so that they can withstand the strain of the journey. Their texture is usually fairly tough, which I find rather negative. For the raspberry of the future, I see large fruits with big drupelets, but with a firm fruit skin and plump fruits. This improves the eating experience, the bite makes the large, individual fruits burst, the juice spreads in the mouth and the ratio of juice/fruit flesh versus seeds improves. Eating raspberries goes from a chewy and rather neutral affair (what am I actually eating?) into an explosively dynamic experience.
Raspberry colours
Raspberries are currently red; raspberries of other colours have only a small share of the market. I see that in the next 20 years we will be able to significantly change and increase the colour palette of raspberries:
All shades of colour from light pink to purple-dark red
With an extravagant shine or without
Real orange raspberries
Bigger and better, especially thornless black, violet and purple raspberries
Picture: Why not a different colour?
Disease resistance
Due to our extensive testing on our breeding plots, we make sure that the raspberry varieties become a little more robust and resistant from generation to generation. It is our goal to incorporate a genetically defined and stably functioning resistance to Phytophthora into most of our new varieties; however, this will comprehensively be achieved only towards the end of the 20-year period that I hope to witness.
Uses and plant architecture
Here we have certainly made the greatest progress in the last 20 years: who would have thought 10 years ago that we would have raspberry varieties with a growth height of less than 100 cm. I believe that much more will be possible here in the next 20 years:
Expansion of the Schlaraffia® family, raspberries that bear gigantic amounts of fruit as bushes in informal plantings, if possible without support.
Large-fruited and more diverse varieties under 100 cm; here we have e.g. real orange-coloured varieties in the pipeline.
Raspberry varieties under 50 cm; raspberries perhaps also as ground cover or as a raspberry meadow.
Hanging raspberry varieties are unfortunately not yet available; what is advertised so by some senders grows reliably upwards. By using the genetics of Rubus occidentalis, however, it would be possible to grow hanging autumn raspberries, i.e. for parapet walls, for boxes and hanging baskets. Stay tuned...
A true everbearing raspberry that bears fruit from mid-June to October: we have double-bearing Twotimer® raspberries, but a continuously reproducing variety is missing. Here we have to find varieties, probably rather semi-compact growing ones, that not only fruit very early on the lowest third of last year's shoots, but they quickly and then continuously form new base shoots during the summer that continuously produce ripe fruit.
Picture: Crossbreeding population with Schlaraffia® raspberries
Picture: Maybe a new Lowberry® raspberry?
Picture: Another Lowberry® candidate, selected in 2019 and now in the second selection stage in 2021.
Should you plant raspberries at all when they will be so much better in the future?
I can imagine that after this lively outlook of the raspberry paradise you are seriously considering whether you should wait with your planting for the new varieties, which will be in any case – breeder's honour! – much more interesting and better than the current raspberries.
There are two things to say about this: firstly, not all dreams come true in raspberry breeding either. And secondly, we also make mistakes, take the wrong breeding paths and have to write off entire populations. Things will probably not be quite as ideal in 20 years, but perhaps they will be much better.
The decisive point for you, however, is this: for me as a breeder, raspberries may be thought games, dreams and visions, but for you in the garden they are, fortunately, almost exclusively physical reality. If you don't plant raspberries, if you only dream about them, you will never harvest and enjoy the fruits. The breeder, on the other hand, dreams much more than he eats. After all, you don't have any visions when you're full😉.
Picture: A nice job - the raspberry breeder at work
Picture: Breeding field with raspberry seedlings in the nursery in Buchs (Switzerland)