What, another new variety? We often hear such and similar remarks. And they are not completely unfounded. We are currently propagating no less than 70 varieties of raspberry. However, the (too) large number is rather due to the fact that we do not succeed in simply abandoning old varieties, as there is still a stable demand for them. This observation also suggests that we should take a closer look at the subject of "new varieties".
What speaks against new varieties?
Of course, there are countless reasons against new varieties:
We know the old varieties better; we know their advantages and disadvantages better.

Even our own customers (and the customers of our customers) have become accustomed to them.

Each new variety has to be sold and communicated.

New varieties are usually more expensive "thanks" to the licence share.
What speaks for new varieties from a market point of view: novelty
Picture: raspberry novelty Schlaraffia® Nibbleme®
From a market point of view, there is quite simply the need for movement and change. Our customers' customers also always want something new. We hear from many of our young plant customers that they lose sales without movement in the assortment, without new varieties or new bundling of offers, even with their long-term major customers. Stable or growing can only be an account that is constantly fed with new ideas. Roughly speaking, this can be said: regardless of the content, it is the dynamics of the market that ask for novelty (even if we sometimes question them...).
How fast does the world of varieties change?
As a breeder, I naturally have a broad view of the future. This can also sometimes go in the wrong direction. I can be wrong about the new desired fruit characteristics; nevertheless, breeding is only possible if it is led again and again by visions. On the other hand, almost 30 years of fruit and berry breeding also enable me to take a look back, which shows me just how much supply and demand, but also variety reality, have changed: from year to year these great tendencies are lost, but over 30 years they become very clear. Here are just a few of these key points and changes:
In many areas we can see how southern plants are surviving better and better here, but how the range is also becoming more professional and wider: citrus plants, figs, persimmon, guavas
Picture: fig Gustissimo® Perretta®
30 years ago there were only a few scab-resistant apple varieties; today we at Lubera only offer such apple varieties and in general the range of fruit for the home garden has grown.

The blueberry has grown from a niche product to a major sales driver.

Black currants in their best varieties (e.g. the Cassissima varieties from Lubera) are more resistant than gooseberries and red currants. They retain their foliage well into autumn even without plant protection.
Picture: black currant Cassissima® Blackbells® with big fruits
New raspberry varieties are much better, twice as big and up to 70/80% more productive than Autumn Bliss.

Sugar has become much more important and the consumers' tolerance to sourness is diminishing. No wonder with so much sugar consumption.
….
Of course it is difficult to judge changes objectively, but there are some good reasons to describe most of these tendencies as progress. Would it really be desirable if all the old varieties had remained stable in their market significance?
….
The Olympic breeding of new varieties: faster, further, higher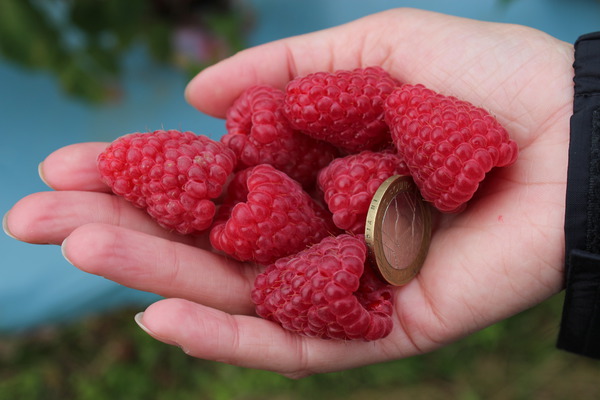 Picture: Primeberry® Malling Happy®, raspberry with giant fruits
In the Olympic breeding discipline "faster-further-higher" commercial breeding is represented above all, but also we cannot neglect this completely. We also take breeding progress with us when fruits grow larger, yields are better and more reliable, and the time from planting to the first harvest is shorter or faster. Especially with berry varieties, fruit size is a quality factor that should not be underestimated: with larger fruits, the ratio between seed and flesh improves; you have more to bite, more juice, more fruit, ultimately more flavour and more taste experience. For most types of berries, this size advantage is positive until the moment when the size is no longer sufficient for a bite, when the fruit only comes in stages into the mouth. Here is an example regarding citrus plants: kumquats taste best when you dare to put it completely in your mouth and bite it, then the oral cavity is flooded with juice and flavour. The taste buds hardly know how to defend themselves from all the impressions. But the kumquat fruit is almost too big to be eaten with one bite, and quite often I observe how it is eaten in two or three bites and how the taste experience is only taken note of with a shrug of the shoulders.
To make a long story short: larger berries make sense as long as they can be pushed all the way into the mouth... and that's why it makes sense to grow berries with larger fruits. Even home gardening must be concerned with improving the objective quantitative agronomic properties of fruit and berry varieties, even if this is not its core area. These necessary agronomic advances also include improving the production characteristics of fruit and berry varieties in plant production: the biggest fruit and even the best flavour are useless if a variety cannot be propagated and produced well.
Home garden breeding: new varieties that are simpler, better, more resistant
Picture: healty garden tomate without rain cover
In addition to these quantitative breeding objectives, qualitative characteristics play a decisive role in the breeding programmes of Lubera and Lubera Edibles: berries and fruit varieties that taste better and more intense, whose flesh and juice dissolve better when bitten (new apple textures); plants that are easier to cultivate, can be grown more easily in the garden with a constant yield and stable quality. Of course, this new simplicity often requires additional disease resistance: mildew tolerance in gooseberries, mildew resistance in cassis, resistance to leaf blight in tomatoes...
Usefulness and ornamental value united in a new variety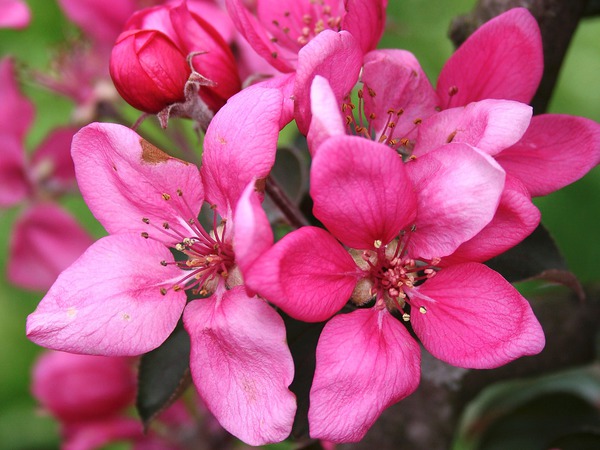 Picture: Redlove® apple Calypso® with pink flowers
The combination of usefulness and ornamental value in one variety is a further silver bullet in home garden breeding, also and especially in our own breeding programmes. Gardens are getting smaller: if we succeed in creating an ornamental value in addition to a better flavour and simpler cultivation, then this is a real added value for our end customers, and also for the customers of our customers' customers. It is precisely this added value that we test at the first sale of new varieties on Lubera.com: if the demand for new varieties increases, if the arguments are well received, then it makes sense to offer these varieties as young plants as quickly as possible.
The changing world
The previous argumentation for new varieties can be summarised as follows: new varieties are needed…
because novelty in and of itself is a value

because we achieve objective quantitative and qualitative improvements and make these available to our customers

because our market partners want change and they also want to differentiate themselves

because the plant producers themselves also want simpler varieties, varieties that can be produced better, varieties that grow more upright, varieties that branch better.
We have not yet focused enough on the end customer, the consumer and hobby gardener... above all, they would like to garden more simply and more pleasurably. They have (subjectively) too little time, they want to harvest immediately and enjoy the fruits of their gardening work immediately. And above all, they are part of an environment that is changing.
So there is a whole other dimension to new varieties that has so far only been quietly echoed: a changing society, different education and time budgets; even more far-reaching, but of crucial importance is the changing climate, a dense environment that leaves less and less room for leeway.
The fact that these environmental and social changes also have an influence on varieties and plant species can easily be shown by extending the temporal dimension a little:
The decline of the pear: the pear was once the royal fruit, as long as one could not only enjoy juicy and melting fruits, but also had to enjoy them, since the dental apparatus was not suitable otherwise. Conversely, it was not until the 20th century that the apple became the leading fresh fruit, thanks to ever-improving teeth.

The establishment of southern plants, in the garden, but also as successful neophytes, continues to increase and must also increase with a changing environment.
For example, we have also redefined the fruit semi-standard as a small tree on a slightly higher trunk, which just allows the lawn to be mowed. Why? Not only because gardens have less and less space, but also because the time horizon of gardening customers is decreasing more and more. What is planted today should preferably bear fruit this year (or at the very latest in the next year), then the product range is suitable for the modern customer with an increasingly shorter attention span....
Picture: dwarf pear tree Pironi® Little Sweety®
Conclusion
This brings us to the end of our reflections: the breeders of this world and we at Lubera Edibles are breeding new varieties so that the plants fit into a changing world. And of course, for this to work in the end, we need a surplus of new varieties rather than a shortage...